Storage Tips:
1. First, make a list of all moving supplies such as the boxes, paper, tape, bubble wrap, markers, labels, etc. you will need.
2. Visit the storage site you have chosen to store your items, so that the site manager can help determine the size of the storage unit required.
3. Schedule a mover. Check your local Yellow Pages and the Better Business Bureau.
4. Understand the agreement between you and the self storage facility, be aware of company policies.
5. Purchase a heavy duty padlock to secure the self storage unit.
WE SELL MOVING SUPPLIES!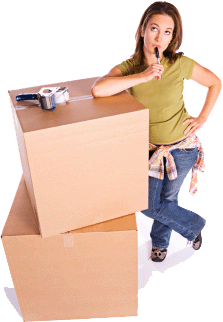 WE SELL MOVING SUPPLIES!
Do Not's
* Do not store any food items, not even spices, rice, cereal, etc.
* Do not give your storage facility password or door code to anyone without authorized access.
* Do not forget to clean and empty all appliances.
* Do not store any toxins or flammables, such as paint, oil or gasoline.
Do's
* Do maximize all space in your unit.
* Do use freestanding shelving to organize file boxes.
* Do store frequently used items at front of storage space to avoid unnecessary searching.
* Do visit the site to check your storage unit at least once a month.
* Do label boxes on all sides and keep a list for future reference.
* Do package boxes according to size and weight, all heavy boxes on bottom and lighter ones on top.
* Do protect your items with covers, old sheeting, moving pads, etc.
* Do disassemble any items that can be; this will save storage space. Attach nut/bolts with ziploc bag to item. Computers and electronics should be boxed so that wires are not confused later.
* Do store sofas, mirrors and pictures on end and stack chairs when possible. Use blankets between furniture and appliances to avoid scratching.
* Do wrap breakables in bubble wrap, and it's a good idea to tape after you wrap it.
* Do store clothing, linens and draperies in wardrobe boxes.
* Do use plastic storage containers when possible. They are great to store your items, especially photo albums.

Why climate controlled storage?
Temperature and humidity are the enemies of your stored goods. Temperature can pass the 100-degree mark, sending storage shed temperatures soaring. Humidity can hover near 100% for days. Wood absorbs moisture and can warp and crack. Fabric can mildew and fade, metal can rust, electronics corrode, important papers curl & rot. Photographs & heirlooms can be ruined. Protecting your goods from moisture and extreme temperature is the key to preserving their value. Store your goods at Kenner Self Storage and ensure the best care possible.